About ActiveHistory and its Author: Russel Tarr
About the Author
ActiveHistory.co.uk is the work of Russel Tarr. I am Head of History at the International School of Toulouse. Prior to this I worked at Wolverhampton Grammar School. I have a degreee in Modern History from Lady Margaret Hall, Oxford University. I am also a fully-qualified teacher with a PGCE from the School of Education at Birmingham University.
I was recently listed as one of the Top History Teachers to Follow on Twitter by The Guardian.
What is ActiveHistory.co.uk?
ActiveHistory.co.uk (est. 1998) provides interactive simulations, decision-making games, self-marking quizzes, worksheets and lesson plans for teachers and students of World History. It provides materials on scores of topics from the Middle Ages to the present day, aimed at every age range between 11-18 years. It provides a highly effective means of teaching history using all the benefits of modern internet technology.
ActiveHistory is a practical, continually evolving resource produced by a full-time history teacher for his students and his colleagues. All of the top activities have been produced with the classroom in mind, and are continually amended after being tried out in class by myself and other visitors. As a result the site has earned some glowing testimonials from its loyal subscribers and praise from newspapers such as the Sunday Times and the New York Times.
Roger Frost in The Sunday Times wrote, "To see teaching creativity bubble onto the internet, and regain any lost joy for school, take a trip to Active History. Pick your year and topic, and discover an enjoyable, intensely hands-on learning environment...The exercises are witty, irreverent and often brilliant". Becky Hewlitt, writing the Times Educational Supplement, was of the opinion that, "If the Queen taught history then Russel Tarr would be a knight of the realm. His superb site has saved me thousands of hours of planning and is a constant source of innovative and exciting ideas."
The "Mr. Men" Controversy
In May 2013 I was the subject of an attack by the Secretary of State for Education, Michael Gove, in what became known as his "Mr. Men" speech. According to Mr. Gove, my approach to teaching is apparently symptomatic of all that is wrong with UK secondary education in general, and history teaching in particular. The following morning I found the story all over the national newspapers including the front page of The Times [image]. Mr. Gove later repeated his criticisms on the BBC's Andrew Marr show.
My full reply to Mr. Gove, and links to various interviews and articles relating to this affair, can be found here.

In one evening, upwards of 500 people changed their Twitter image to express their support for me against Mr. Gove
Journalism
Public Speaking
I have been a speaker at SFE conferences in Bradford and London, and have provided courses for Mill Wharf and New Horizons.
I run training courses for groups of teachers on a freelance basis several times a year in the UK (Manchester, Birmingham and London being the most frequent venues). "A History Teacher's Toolkit" focuses not (as in my past courses) on technology in the History classroom, but instead on creative strategies for teaching history in the secondary classroom.
I presented at the European Council of International Schools Conference in November 2013, sharing '60 tools in 60 minutes' for teachers and students.
I delivered a talk to 100+ teachers of the OIB course in Paris (October 2014). I was unable to attend in person, but delivered a 50-minute talk using Google Hangouts to share some ideas and resources with a focus on the materials I have developed at www.activehistory.co.uk and www.classtools.net. Here is is if you're interested!
In 2014 I was honoured to be invited to open the largest ever TeachMeet conference at the BETT Show in London. For 7 minutes I gave a whistle-stop tour to 650+ teachers of some of the most popular resources on my (other!) website www.classtools.net. The following year, Sir Ken Robinson was subjected to my 'Random Name Picker' which is a feature of many TeachMeets!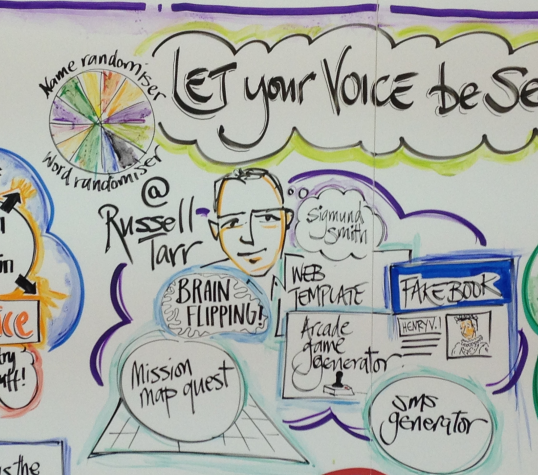 Books
Other websites / projects
I am the administrator of the IBDP History Teachers Support Group on Facebook.
I am the author of "Tarr's Toolbox", which collates my favourite teaching strategies and resources in one place:

I am also author of Classtools.net, a popular website which provides free, customisable flash templates to embed into blogs, wikis and websites: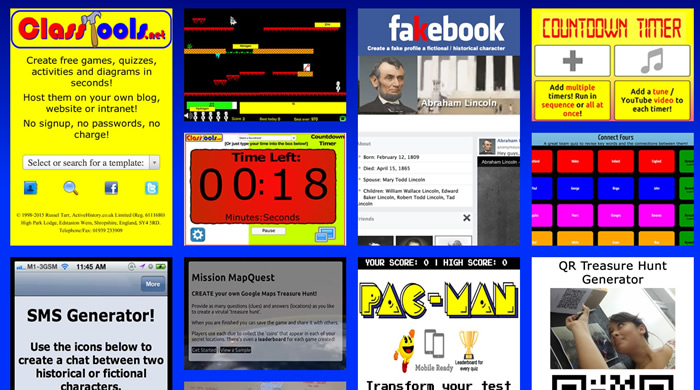 BECTA Award
The Head2Head Interviews were awarded first prize in the BECTA / Guardian Educational Website Awards way back in 2002, beating off competition from over 320 other sites and described as a "brilliant concept" that won "hands down" "for sheer ingenuity". I was presented with an award at a ceremony at BAFTA in London. Based on ActiveHistory, Wolverhampton Grammar School was given membership of ENIS, the European Network of Innovative Schools.
How to get in touch
ActiveHistory is updated on an almost daily basis with new worksheets, games, lesson plans and quizzes. The best way of getting a feel of what the site is all about is to keep an eye on the "What's New?" page on the site; if you prefer, you can subscribe to its RSS Feed, or follow its Twitter Feed, or follow the site on Facebook Fanpage.
I would very much welcome any suggestions for improvements to the site - mail me using the Feedback Form. You can also follow me on Twitter (@russeltarr / @activehistory).

---


© 1998-2021 Russel Tarr, ActiveHistory.co.uk Limited! (Reg. 6111680)
High Park Lodge, Edstaston Wem, Shropshire, England, SY4 5RD. Telephone/Fax: 01939 233909
All rights reserved | Privacy Policy | Contact