EC7 Auditorium Assembly
• Students return to Secondary Hall for debriefing and an outline of the next phase of the project "Was World War Two a period of progress and development?". Half the teams will be providing a case for "YES", and half a case for "NO" (to be decided randomly during the assembly).
▪ Each of the "YES" teams has to focus on one a different theme (e.g. cultural, technological, political, economic, social, diplomatic – these could be discussed and decided upon by the group themselves OR decided by the roll of a die: this is also a good opportunity to define those terms). The "NO" teams take responsibility for a counter-argument for the same themes.
▪ Each team then has the remainder of the day to prepare their case.
• The presentations themselves will take the form of a debate between pairs of opposing teams, with the audience taking notes and producing a synthesis statement based on the argument / counter-argument presented.
• In this way all students will be much more engaged with a wider variety of perspectives and each presentation will be very different from the last.
In these presentations students will be expected to demonstrate:
Breadth - Coverage of all 6 subject areas
Depth - Evidence of both positive and negative impacts
Linkage - Clear and logical connections between the 6 subject areas
Students are given the following instructions which outlines how they should draw their findings together:
---
Definition of key terms
• As a team, define how 'progress and development' can be measured for your allocated theme. Write down your definition in the following manner:
Economically, progress and development can be measured by… [OR]
Politically, progress and development can be assessed by…(etc)
Analysis within subjects
• Next, go through each of the six subject areas you have now learned about. For each, identify some ways there was clear 'progress' according to your criteria, or ways in which there was not, based on whether your answer to the key question is "YES" or "NO". You may wish to divide the subjects between the members of the group and share your thoughts afterwards.
Linkage between subjects
• Then, discuss as a group the order in which you think these subjects should be presented. Is there a logical connection (for example) between how the developments in science clearly impacted upon developments in literature? The best teams will be able to show how the six subjects connect together with each other.
Drawing together your findings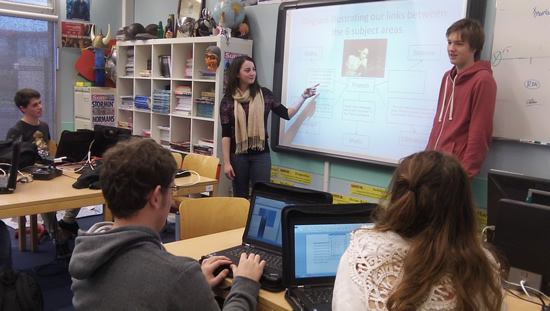 · Create a shared Google Presentation consisting of several slides. These should consist of:
• Your central argument (e.g. "In terms of culture, World War Two was not a period of progress and development").
How we connected the subject sessions
(diagram and explanation)
Our definition for measuring progress and development for our theme
(aim for between 3 and 5 definitions)
Evidence backing up our argument with regard to our first definition
(don't just list the positives or negatives; try to connect them e.g. with phrases like "in the long term…in the short term", "in theory…but in practice…", "In this part of the world…but in that part of the world…)
Evidence backing up our argument with regard to our second definition
(and repeat this format for the remaining definitions)
Overall conclusion
This is your closing judgement where you aim to make a grand overall statement which answers the key question in just a couple of sentences. Frame this as a "quote" in a large font size. Make it arresting, thought-provoking, even controversial. Imagine perhaps the closing statement made by a narrator in a TV documentary just before the credits roll, the music swells up and he/she walks off into the horizon…!
NOTE: Each main slide needs to focus on a different DEFINITION of progress, NOT a different CURRICULUM SUBJECT.