Wednesday AM
Students will be involved in a 'treasure hunt' around Toulouse based on this concept and using this particular example as a starting point (I plan to develop this with colleagues to broaden its academic reference - e.g. including science, arts, maths questions).
This treasure hunt was originally designed by RTA/MPO/EWH for the Maths event, but the concept is very flexible and could be a great development for the event, especially in terms of team-building and developing some local knowledge.
JCA has provided links to two excellent articles (here and here) and so I will work closely with him to develop this in the first instance.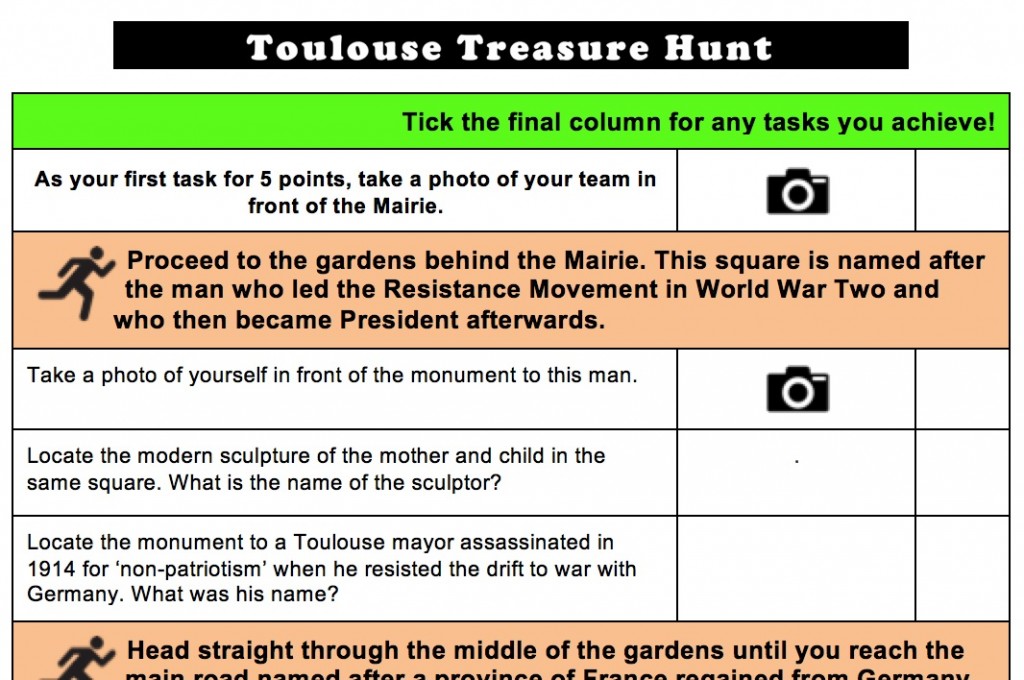 Period 4, 5, 6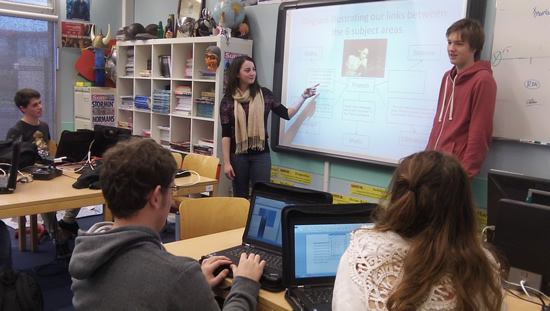 • Students return to Secondary Hall for debriefing and an outline of the next phase of the project "Was World War Two a period of progress and development?". Three teams will be providing a case for "YES", and three a case for "NO" (to be decided randomly during the assembly).
▪ Each of the three "YES" teams has to focus on one key theme (e.g. cultural, technological, political, economic, social – these could be discussed and decided upon by the group themselves but CANNOT be named after subjects, only themes). The three "NO" teams need to take responsibility for a counter-argument for the same three themes.
▪ Then, each team prepares their case using additional sources in the remaining time today.
• The presentations themselves will take the form of a debate, with the audience taking notes and producing a synthesis statement based on the argument / counter-argument presented.
• In this way all students will be much more engaged with a wider variety of perspectives and each presentation will be very different from the last.
▪ Students then return to their
normal classrooms
to prepare their debate presentations.
Period 5/6:
They then return to their normal classrooms for the remainder of the day.
• Student groups prepare their debate presentations (maybe using the ClassTools Role Cards to help them) answering the key question "Was World War Two a period of progress and development?" based on such things as
• Where (does it depend on the part of the world being looked at)?
• When (are looking at the short-term or the long-term)?
• Who (men or women? Adults or children?)
In these presentations students will be expected to demonstrate:
Breadth - Coverage of all 6 subject areas
Depth - Evidence of both positive and negative impacts
Linkage - Clear and logical connections between the 6 subject areas
Students are given the following instructions which outlines how they should draw their findings together:
---
IDefinition of key terms
· As a team, define how 'progress and development' can be measured for your allocated theme. Write down your definition in the following manner:
Economically, progress and development can be measured by… [OR]
Politically, progress and development can be assessed by…(etc)
Analysis within subjects
· Next, go through each of the six subject areas you have now learned about. For each, identify some ways there was clear 'progress' according to your criteria, or ways in which there was not, based on whether your answer to the key question is "YES" or "NO". You may wish to divide the subjects between the members of the group and share your thoughts afterwards.
Linkage between subjects
· Then, discuss as a group the order in which you think these subjects should be presented. Is there a logical connection (for example) between how the developments in science clearly impacted upon developments in literature? The best teams will be able to show how the six subjects connect together with each other.
Drawing together your findings
· Create a shared Google Presentation consisting of several slides (if you really need help setting one up with shared permissions, let RTA know but try to do it yourself if you can). These should consist of:
▪ Your central argument (e.g. "In terms of culture, World War Two was not a period of progress and development").
· How we connected the six subject areas
(diagram and explanation)
· Our definition for measuring progress and development for our theme
(aim for between 3 and 5 definitions)
· Evidence backing up our argument with regard to our first definition
(don't just list the positives or negatives; try to connect them e.g. with phrases like "in the long term…in the short term", "in theory…but in practice…", "In this part of the world…but in that part of the world…)
· Evidence backing up our argument with regard to our second definition
(and repeat this format for the remaining definitions)
· Overall conclusion
This is your closing judgement where you aim to make a grand overall statement which answers the key question in just a couple of sentences. Frame this as a "quote" in a large font size. Make it arresting, thought-provoking, even controversial. Imagine perhaps the closing statement made by a narrator in a TV documentary just before the credits roll, the music swells up and he/she walks off into the horizon…!
NOTE: Each main slide needs to focus on a different DEFINITION of progress, NOT a different CURRICULUM SUBJECT.
•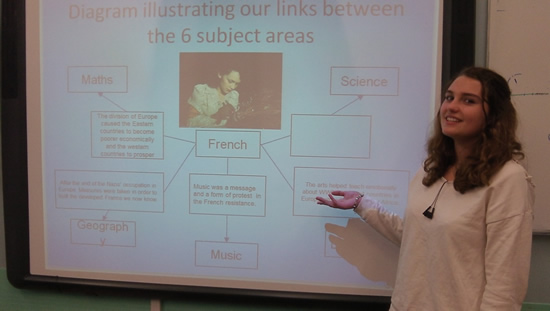 Student groups will use Group 3 lesson time in the following week to deliver their presentations in the Secondary hall with MPO, MBL and RTA as judges (and hopefully also at least one of GFE, NFR, CST).
• All students complete a peer assessment slip to measure the contribution of each person in the team. Supervising teachers collect these in, and use them to spot if any student has been 'carried' by the rest of the team.
• Co-ordinators round off by explaining the next stage of the project (e.g. written essay in Group 3 sessions, to be peer assessed against a clear markscheme).
NOTE about audience participation: As these presentations are in the form of a debate, with pairs of teams pitted against each other to argue for/against process on particular themes, the audience should be encouraged not merely to make notes, but challenged to provide a synthesis which successfully reconciles the points made in each presentation (e.g. progress in the short- but not the long-term; progress in one part of the world/society, but not in another).
Teachers are looking for such things as:
• A thematic argument based on a clear definition of progress, not one based on a 'subject by subject' approach
                  • Each person in the team having a clear contribution
                  • Engagement with the audience (direct eye contact, asking for involvement)
• Slides which are not simply packed with text that is read out; rather, the slides should provide essential stimulus that is developed by the presenter.
Task 1: Deciding on the most "important" factors
▪ After discussing as a class how we define "important" in history, you should work individually for this task. Write down your view of the FIVE most important 'impacts' of World War Two.
▪ Use the presentations from the induction event to help you, and be prepared to explain your choices.
▪ Compare your ideas with a partner, then with the class.  
Task 2: Linking the factors
▪ Can these impacts be linked in any meaningful way?
▪ As a class, start this process by considering which words we could add to the following list:
Cause | Result | Therefore | Exacerbated | Accelerated | Consequence | Highlighted
▪ Then, produce a flow diagram linking your factors together. At this stage you might start considering which developments were positive, and which were negative.
Task 3: Writing the essay
At this point you will start writing the essay. Your teacher will provide guidance on this.
Introduction: Set the scene with some engaging fact, quote or anecdote about the war. Outline how you plan to define "progress" and what your essential argument is going to be.
Paragraphs: Make sure each paragraph starts with a sentence making a clear argument or point. Proceed in the remainder of the paragraph to explain your point with appropriate, carefully selected evidence. The line of argument will likely follow the shape of your Google Presentation but you may choose to adapt this based on ideas from other groups.
TIP: Reading purely and simply the first sentence of each paragraph in sequence should provide a coherent summary of your argument if you do your job well.
Conclusion: Restate your central argument and make any appropriate closing observations (e.g. about which region of the world was affected most / least positively).