World History teaching resources for the high school classroom: lesson plans, worksheets, quizzes and simulation games for KS3, IGCSE, IB and A-Level teachers.
---
This unit forms part of the World War One materials at ActiveHistory: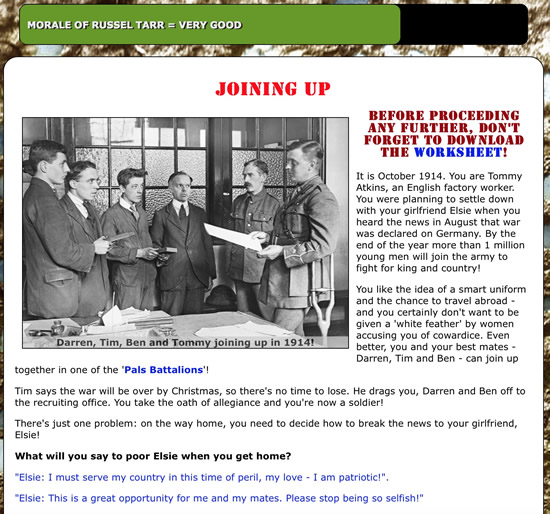 ---
"In this simulation you will be a British soldier who joins the army in 1914 to fight the Germans. You will learn about the conditions which soldiers lived and fought in, and the dangers they faced. There is a worksheet to go with this activity which you should complete as you proceed. You can also save your progress at any time so you can continue the game over several lessons or as homework. There is even a leaderboard!"
Life in the Trenches! [earlier version]
A decision making game, complete with worksheet and extension activities. A good way into the topic. This version is a simpler version of the newer simulation, more suitable for younger students or for classes with less time to devote to the investigation.
A PowerPoint Presentation complete with questions. There is also a PowerPoint Presentation on The Defence of the Realm Act.
This introductory multimedia presentation is followed by using these 27 sources to complete the group work task outlined in the final slides. Suggested follow-up activities are also provided.
Designed for students at my old school, but it might be of interest to other schools considering a similar project.
A photocopiable worksheet of World War One poems, complete with questions. There is also a PowerPoint Presentation to accompany the task. I like to introduce this lesson by reading "1914" by Philip Larkin, and "In Memoriam" by Ewart Alan Mackintosh (both available on the web through a Google search!). This was a very literary age – there was no TV, radio, computers; the war generation was the first to have mass literacy thanks to the liberal reforms of the 1870's; reading and writing books and poems provided both an escape from and a way of dealing with the horrors being faced, and language had to develop to meet the new challenges. "No man's land", "Tactics", "Over the Top", "Lousy", "Souvenir", "Rank and File" and "Trenchcoat" are all words introduced into the language at this time.
Students conduct a debate on the issues of whether Haig was a good General, whether the battle plan was crazy, and whether it achieved its objectives. They do this by:
(a) Completing this worksheet as the teacher goes through The Battle of the Somme PowerPoint;
(b) Completing this investigation workpack about the Somme Offensive.
The late, great Richard Holmes is still the best TV military historian. Here's a video, worksheet and teacher answers on the Battle of the Somme.
To consolidate knowledge and understanding before the sourcework exercise which follows, get students to take the following tests and jot down the highest scores they get at the end of the session:
Alternatively, get all the students playing this quiz, and give each student a ranking based on how quickly they finish it compared to the others.
This is a good point at which to set students to work on this sourcework exercise (which comes complete with a markscheme).
World War One, 1914-1918 - a good way to round the unit off!
Students should open a copy of this table, and fill the gaps by playing one of the following quizzes:

Each team will be presented with a clue about a key historical figure. They get 50 points if they guess it correctly. If they wish to 'pass', they get further (easier) clues but the points available steadily decline. An incorrect guess at any point means they get zero points for that round. You can play as many rounds as you wish. It's a great way to revise!
---


© 1998-2023 Russel Tarr, ActiveHistory.co.uk Limited (Reg. 6111680)
1 Torrin Drive, Shrewsbury, Shropshire, SY3 6AW, England
All rights reserved | Privacy Policy | Contact