IB History: ActiveHistory
An ActiveHistory subscription provides everything you need to construct and deliver a two-year IBDP History course from start to finish using the ActiveHistory IB History Hub.
---
The Chinese Civil Wars and the Rise of Mao
• The birth of Modern China can be traced to the declaration of the People's Republic of China in 1949 by Mao Zedong.
• The Emergence of Modern China is a central topic of study for any 21st century citizen. China is the only place in the world which is officially described as BOTH a developing country AND an emerging superpower. The historian Niall Fergusson argues that America is now so dependent on China that we should really be talking of one Superpower – "Chimerica"!
• This remarkable transformation from "Third World" to "First World" status has raised the possibility that maybe communism – discredited since its collapse in Eastern Europe in the 1990s – still has potential as a viable political system.
• In terms of the IB examination, The Chinese Civil War provides extra material for both the "Causes, Practices and Effects of War" and the "Rise and Rule of Single Party States" sections.
---
A. Complete Scheme of Work
An introductory handout providing a timeline of events and lost of characters to familiarise students with an essential overview.
A brief overview of the main parties involved and the key events. Students should take notes!
A comprehensive interactive lecture to educate students about the key events of the Chinese Civil War, with twelve decision points and complete with 45 minutes of video clips. Designed to be delivered as an interactive lecture over several hours. As students progress through the decision-making exercise, they should make detailed notes. In addition, each time the class is presented with a 'decision point', each students should split 50 points each between the options to reflect what they would recommend the course the leader should follow if his objective is to win full control of China. The teacher will provide each students with a 'voting slip' from ActiveHistory for this purpose.When you are told what he actually did, circle off the points given to those options to provide an 'approval rating' for Mao or Chiang as appropriate. At the end, students can calculate their overall total "Communist" and "Nationalist" ratings as appropriate and compare the results as a class.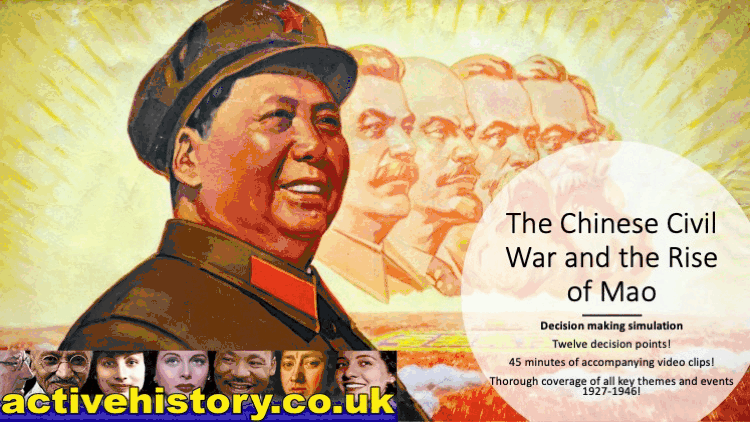 "Use your detailed handwritten notes from the decision making simulation to complete this table in as much detail as possible. You may wish to use a key to highlight events, places, and people in different colours. Next, develop your timeline further by doing your own web research on some of the key events and individuals you think are most important to help explain why Chiang LOST and Mao WON the Civil War (alternatively, the first 90 minutes of this video covers the topic comprehensively. Add these details into your timeline as appropriate and highlight these in yellow ready to share with the class".
Twenty questions to test essential knowledge, based on what should have been learned so far.
"Watch the 8-minute video to complete this initial timeline to summarise what you have so far learned. If you have not already completed your own detailed timeline, develop this one further using your notes from the decision making simulation".
Students use their detailed notes to complete an analysis of the following factors, taken from the IBO syllabus, then discuss later as a class how they can be connected.
Propaganda and Charismatic Leadership | Ideology | Socio-Economic Factors| Military Factors / Use of Force | Role of Foreign Powers
Students are provided with a list of essay questions from past examination papers. As a class, read through the questions and highlight the central focus point of each. Students then consider how they would structure a question phrased as follows for each of these focus points.
Students are provided with a template which allows them to methodically structure a whole range of essay questions. Each student should complete this for a different questions, then these can be collated and shared to revise from. In a subsequent lesson, the teacher should choose one of these questions for students to tackle in timed conditions.
Students are given a list of quotes from Mao and Chiang, and consider where and how they could be integrated into their essay plans.
This sourcepack comes complete with questions and is broken up logically into sections relating to three key periods leading to the rise of Mao.
---
B. Model Essays by RJ Tarr (note: teacher password required)
---
C. Quizzes and Revision Exercises
Students are put into teams and play this competitive game which tests their knowledge and develops their understanding.
Students and teachers can ensure that they have covered the essential information by using this interactive newsfeed, which covers all of the major points in extra detail.
After the class has had a feedback session based on the individual research tasks, students should complete this interactive exercise which tests their knowledge of the essential points and which additionally provides them with a thorough, completed table of information with which to develop their original notes. Each student is also given a score, which the teacher can record in the markbook.
Meet some of the key characters relating to the topic, learn about some of the key documents and artefacts, and take a series of tests before being given an overall score in this decision-making adventure.
If you are unfamiliar with the format of the game, click here for instructions.
An end-of unit challenge with 45 possible questions. All students should start the quiz at the same time, with 10 minutes available. Award 10 points to anyone finishing the quiz successfully within the first minute, 9 points to anyone finishing within the second minute, and so on. I build up a "leaderboard" of quiz results throughout the year, and especially during revision period!
---


© 1998-2023 Russel Tarr, ActiveHistory.co.uk Limited (Reg. 6111680)
1 Torrin Drive, Shrewsbury, Shropshire, SY3 6AW, England
All rights reserved | Privacy Policy | Contact