IB History: ActiveHistory
An ActiveHistory subscription provides everything you need to construct and deliver a two-year IBDP History course from start to finish using the ActiveHistory IB History Hub.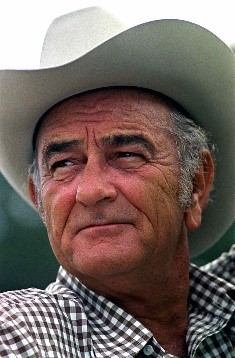 Introduction
Lyndon Baines Johnson (1908-73) had been JFKs vice-president, appointed to the position because he was a masterful manager of congress with a remarkable ability to get things done. By turns brash, charming, coarse and cloying, he was a fascinatingly complex, larger-than life figure. In many ways he could not have been more different to Kennedy, a suave millionaire playboy with whom he had a predictably prickly relationship: Johnson, a devoted family man, came from a poor background, never lost his thick Texas drawl, and was very insecure about his lack of formal education.
After the 1964 election, the Democrats held two-thirds majorities in both houses of Congress. This gave Johnson the mandate to realize his vision of a "Great Society". Emboldened by his election by more votes than any president in history, Johnson prepared to inundate the 89th Congress with a flood of legislative proposals.
Johnson declared a "war on poverty" and challenged Americans to build a "Great Society" that eliminated the troubles of the poor.
By 1965, Johnson had devised and signed into law more than 200 pieces of major legislation, including a sizable tax cut, a billion-dollar anti-poverty programme, and a ground-breaking civil rights bill.
Current-day relevance
The debate over the proper size and role of the federal government is a distinctly American one. In no other country has that question been argued for so long and with such intensity, going all the way back to Alexander Hamilton (who wanted a powerful central authority) and Thomas Jefferson (who feared one).
Virtually every political battle that rages today has roots in the federal expansion and experimentation that began in the 1960s. It set terms of engagement for ideological warfare over how to grapple with income inequality, whether to encourage a common curriculum in schools, affirmative action, and immigration. Poverty remains with us, with the two parties in deep disagreement over whether government has alleviated it or made it harder to escape.
LBJ: An Introduction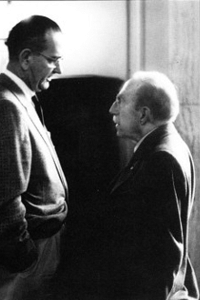 In this worksheet, students are given an overview of LBJ and his famous 'treatment', along with video clip links and an extract from an acclaimed biography of the President. From this they are encouraged to identify five key aspects of the "Johnson Treatment" and substantiate each with an extract from the reading.
Video Task: Overview of the Great Society: Worksheet | Video 1 (8m) | Video 2 (10m)
Students start by watching two video documentary extracts to start making notes under the most important headings for various policies (e.g. What was the problem? What was LBJs solution? Praise / Success? Criticism / Failure?). The areas under consideration are War on Poverty; Education; Health and Welfare; Arts, Media and Culture; Environment; Housing, Urban and Rural Development, Transportation; Consumer Protection, Workers' rights. This leads directly into the Discussion Task ("What was the GREATEST aspect of the Great Society programme?"): each student will be given ONE policy area to research and write about, aiming to persuade the rest of the class SUPPORTING the viewpoint that it deserves to be regarded as the greatest achievement of the Great Society programme. In addition, they will be required to construct a case UNDERMINING the claims of the next issue in the list (if their name is at the end of the list, they construct a case against the first issue in the list).
Feedback Phase: Teacher Notes
I find it's a good idea to set up a Google Form so that students can collate their findings collaboratively. Here's a sample Google Doc on the Great Society that my students completed. In this sense the feedback session becomes more about talking through the issues in a 'for or against' format to reach agreement on a synthesis and topic statement for each policy area - an approach described in more detail on the blogpost "Ditch Debates, Adopt Arbitration!" on Tarr's Toolbox.
Task 1 (starter): Watch the video clip of Paul Ryan criticising the War on Poverty e.g. search YouTube for "Rethinking the war on poverty | Paul Ryan | TEDxPennsylvaniaAvenue". How would Johnson perhaps respond to these criticisms?
Task 2
: Read the 'topic sentence' of the first rowin the table , and tidy up the notes in the rest of the row to match it in continuous prose so that when read consecutively these cells form a coherent paragraph.
Task 3
: As a group, discuss each of the other rows in turn, with the people who researched these leading the discussion. What problem was LBJ trying to solve? How did he try to do this? How could we measure success in each area? By these criteria, were his policies successful? End the discussion of each row with a few minutes for each student to develop a topic sentence and tidy up the notes.
---


© 1998-2022 Russel Tarr, ActiveHistory.co.uk Limited (Reg. 6111680)
High Park Lodge, Edstaston Wem, Shropshire, England, SY4 5RD. Telephone/Fax: 01939 233909
All rights reserved | Privacy Policy | Contact