World History teaching resources for the high school classroom: lesson plans, worksheets, quizzes and simulation games for KS3, IGCSE, IB and A-Level teachers.
---
Japan and Italy: The Manchurian and Abyssinian Crises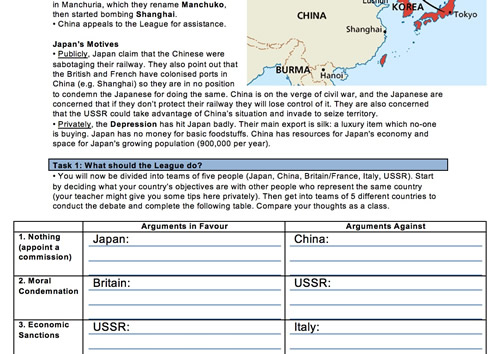 The other worksheets in this short unit can be collated together as a printable pack if desired. This cover sheet establishes the relevance of the topic.
The horrifying human impact of the League's failure in Manchuria in particular is highlighted in this disturbing slideshow. I only use this at IB level. Please reach your own judgement as to whether it is appropriate for your own students.
This roleplay exercise is a great way to get students thinking about the possible courses of action open to the League. Students are given an essential briefing about the Manchurian Dispute, and are then organised into five groups representing different countries. Each country is given a role card outlining what course of action they favour, and oppose, and prepare their speeches. They then break into sub-teams to debate the issues and reach a verdict on how the League should react, before watching a video clip which tells them what actually happened.
Students consolidate their knowledge by analysing a series of political cartoons relating to the Manchurian and Abyssinian Crises.
Students are presented with a detailed breakdown of the crisis and watch several video clips to help them form judgements. A cartoon analysis exercise then follows.
Break the class into two groups. One will focus on the first crisis, one on the second. They should then construct an essay about the causes, course and consequences of their allocated crisis using the cartoons about Manchuria or Abyssinia as appropriate. Here are some sample outcomes from my own students: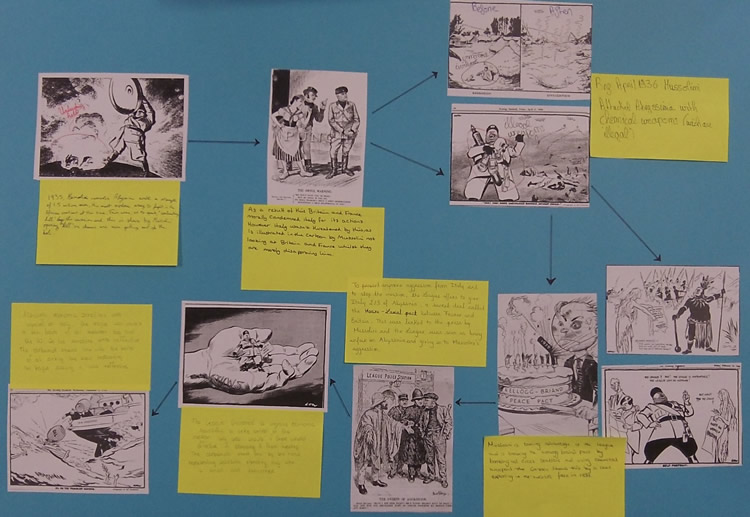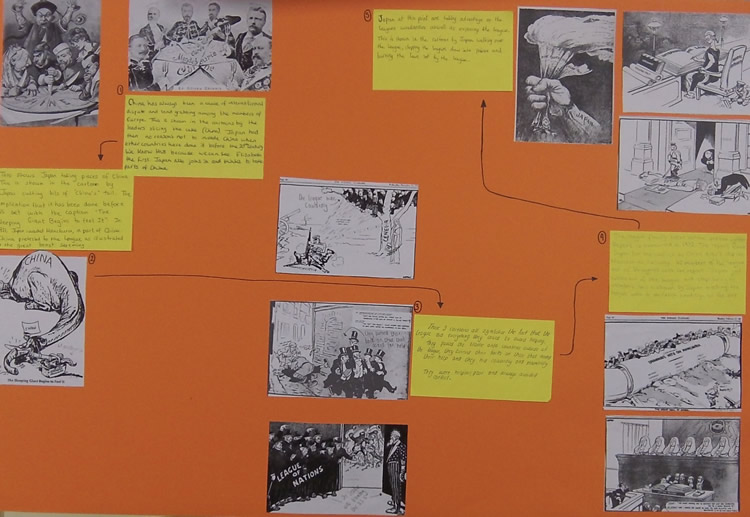 Students are provided with a writing frame which helps them compare and contrast the causes, course and consequences of the two crises.
---
---


© 1998-2023 Russel Tarr, ActiveHistory.co.uk Limited (Reg. 6111680)
1 Torrin Drive, Shrewsbury, Shropshire, SY3 6AW, England
All rights reserved | Privacy Policy | Contact