IB History: ActiveHistory
An ActiveHistory subscription provides everything you need to construct and deliver a two-year IBDP History course from start to finish using the ActiveHistory IB History Hub.
---
Prior to the first lesson on this topic, students should complete this worksheet which provides them with a thorough overview of the main events, themes and personalities.
In this educational simulation, students each research a different character secretly. One of them was a genuine communist, the rest were innocent of the charges. Then, after each one is interrogated (HUAC style!) by the teacher, students have to organise themselves over several rounds into different groups in an attempt to identify the communist within the group. A great one-hour activity!
A 12-slide presentation providing an essential overview and images to analyse and discuss.
This pack provides detailed information and suggested areas for research. Students choose a range of themes from those suggested and conduct their own research to help them prepare their essays.
The Impact of McCarthyism in the USA in the 1950s is such a rich topic of study that it is difficult to know what to focus on, so I let each student choose their own area of interest (music, film, politics, science....) and then gave them their own exhibition space to produce something in the school corridor. Rather than it being a 'display' they have to include questions / tasks (what they called 'clickbait'!) to get other students interested. They came up with some great ideas ('Which one of these posters is NOT really from the period?', 'Match this character card to the one on display which tells you what happened to them in the Red Scare', 'Find the 'reds under the beds' badges hidden around school and trade each one in for a sweet!'' and so on...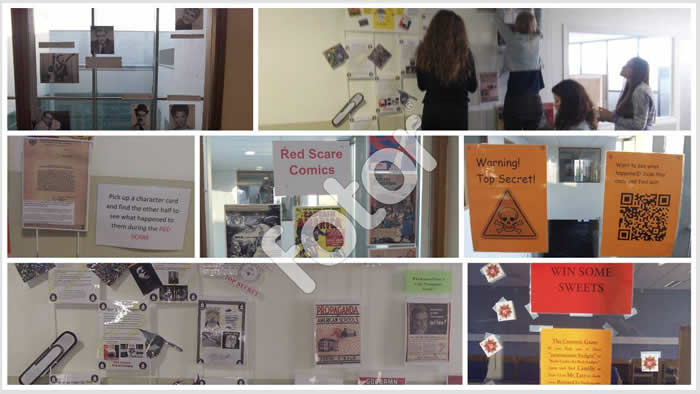 Keyword Checker - How did the early years of the Cold War (1946 to 1956) affect the political and social life of the United States?
When students have completed their essays on this question, they should put them into this key word checker to determine how many key terms they have successfully incorporated.
Model Essay: How did the early years of the Cold War (1946 to 1956) affect the political and social life of the United States? [teacher password required]
Here's a model essay I wrote on the key question in timed conditions, and which students could be given after completing their own.
---


© 1998-2023 Russel Tarr, ActiveHistory.co.uk Limited (Reg. 6111680)
1 Torrin Drive, Shrewsbury, Shropshire, SY3 6AW, England
All rights reserved | Privacy Policy | Contact