World History teaching resources for the high school classroom: lesson plans, worksheets, quizzes and simulation games for KS3, IGCSE, IB and A-Level teachers.
---
The following resources are a completely self-contained scheme of work which remove the need for textbooks.
A comprehensive pack of sources and questions in the style of GCSE/IGCSE examinations, designed to be printed off at the beginning of the unit and used as homework exercises over the course of several weeks.
Easily overlooked, this helps students understand the complex political, economic and social backdrop to the Peace Conference.
Designed to be completed through a teacher-led lecture. Also available as a pdf file. There is also a completed teacher copy.
An extension or homework task.
An effective way of getting students to assess not only what did happen, but whether these were the best decisions that could have been reached. A teacher lesson plan is also essential for this exercise. A simpler exercise is available as a pdf file.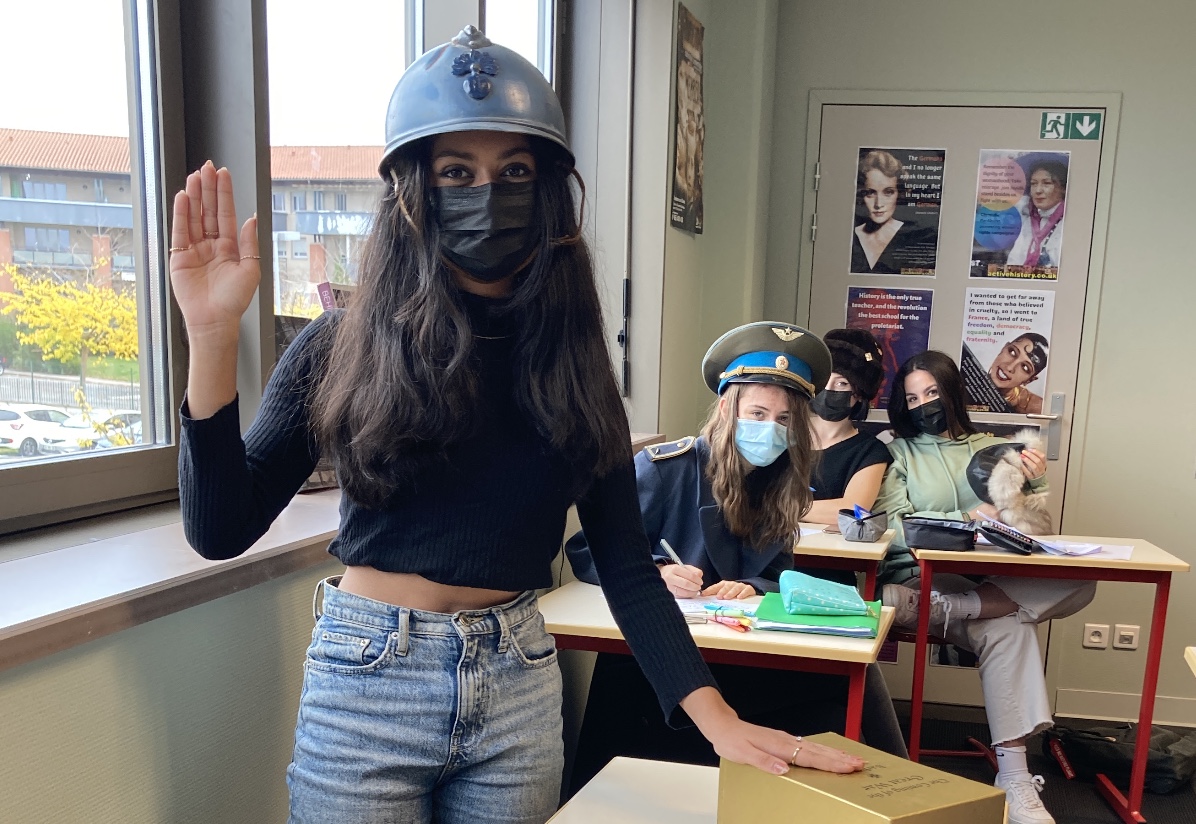 A map-based activity to help students visualise the location of the places discussed in the previous lesson.
Students debate the pros and cons of the various decisions taken by comparing them to alternative courses of action.
Designed to consolidate knowledge and to develop visual reasoning skills.
Students assess the extent to which each of the Big Three were happy with the terms of the Treaty.
Students are placed into groups and use a variety of written sources to marshall an argument.
To test factual knowledge.
A printable worksheet covering the aims of the Big 3, the decisions reached an an assessment - with a completed teacher copy.
After reviewing the terms of the Treaty, decide where each of the following words belong in the grid:
Saar | Colonies | Rhineland | Alsace-Lorraine | Polish Corridor | Reparations | Armaments | War Guilt | League of Nations
Compare your ideas with a partner, then as a class. Be prepared to explain your choices and explain accordingly.
TIP: For a more competitive and engaging approach, your teacher might instead arrange this lesson in the form of a game of 'Interpretation Battleships!' (rules here).
Sourcework assignments for different age groups.
A "Cut and Paste" exercise which provides students with a one-side summary of the terms and results of the treaties imposed on Germany's allies. Also available as a printable pdf file.
Students learn about the conflicting promises made by the British in the Middle East during World War One, and then tackle this: "It is now 1919. You are Prime Minister David Lloyd George, about to head off for the Paris Peace Conference. Complete this official statement on British plans for the Middle East of no more than 150 words, designed to satisfy the Arabs, the French and the Jews. Your teacher will show you what he actually decided afterwards".
"In this simulation you will take on the role of an advisor to the British Prime Minister, David Lloyd George. You will be asked how you think he should handle the Ottoman Empire after World War One. You will also be asked factual questions to test your knowledge. Think carefully about each of your responses"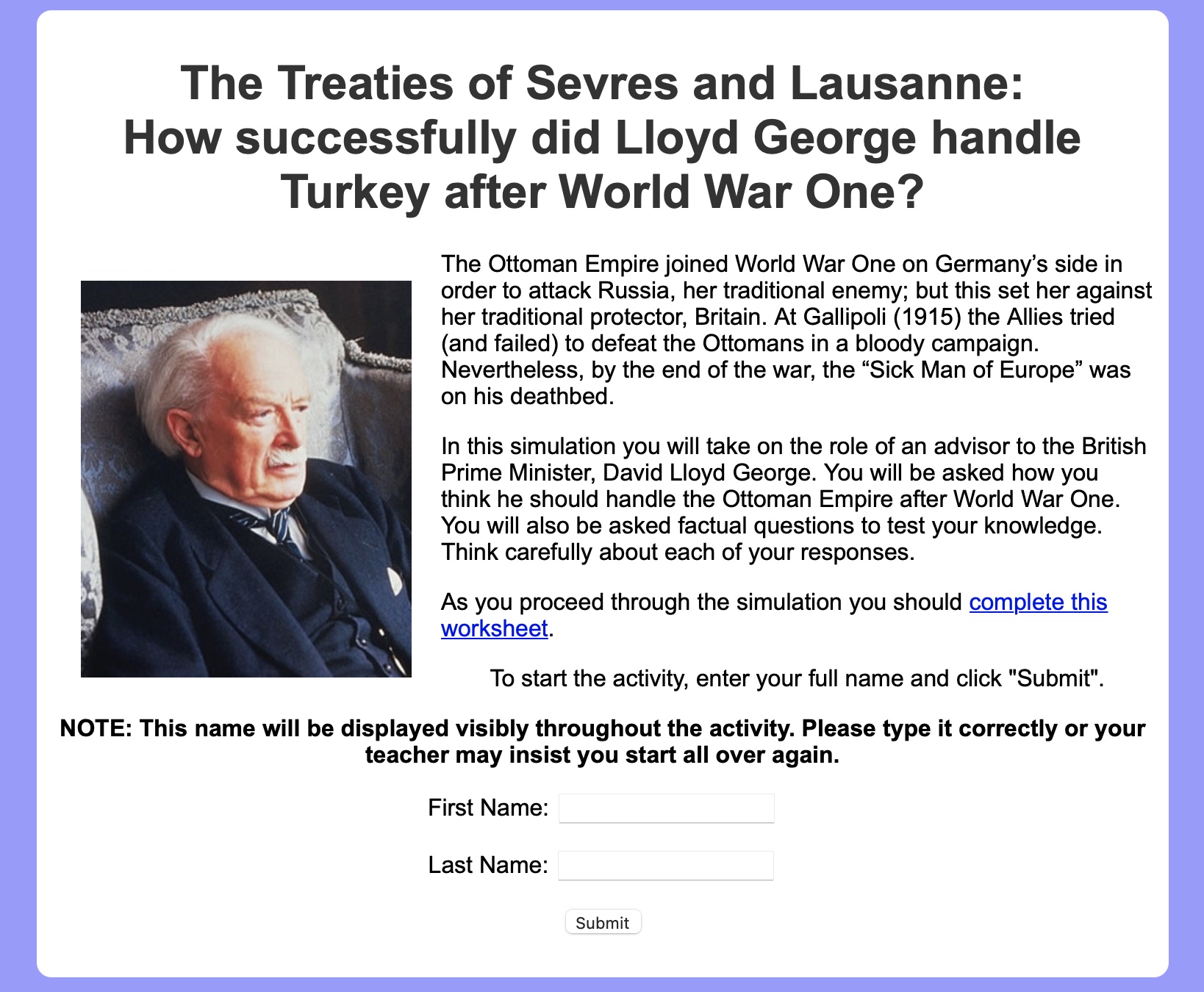 ---
Interactive quizzes / simulations
An artificial intelligence simulation, complete with worksheets. Students choose which member of the Big Three to be in role as, and then try their best to obtain their objectives over a series of rounds of negotiations. A good way of rounding the unit off, introducing it, or revising it!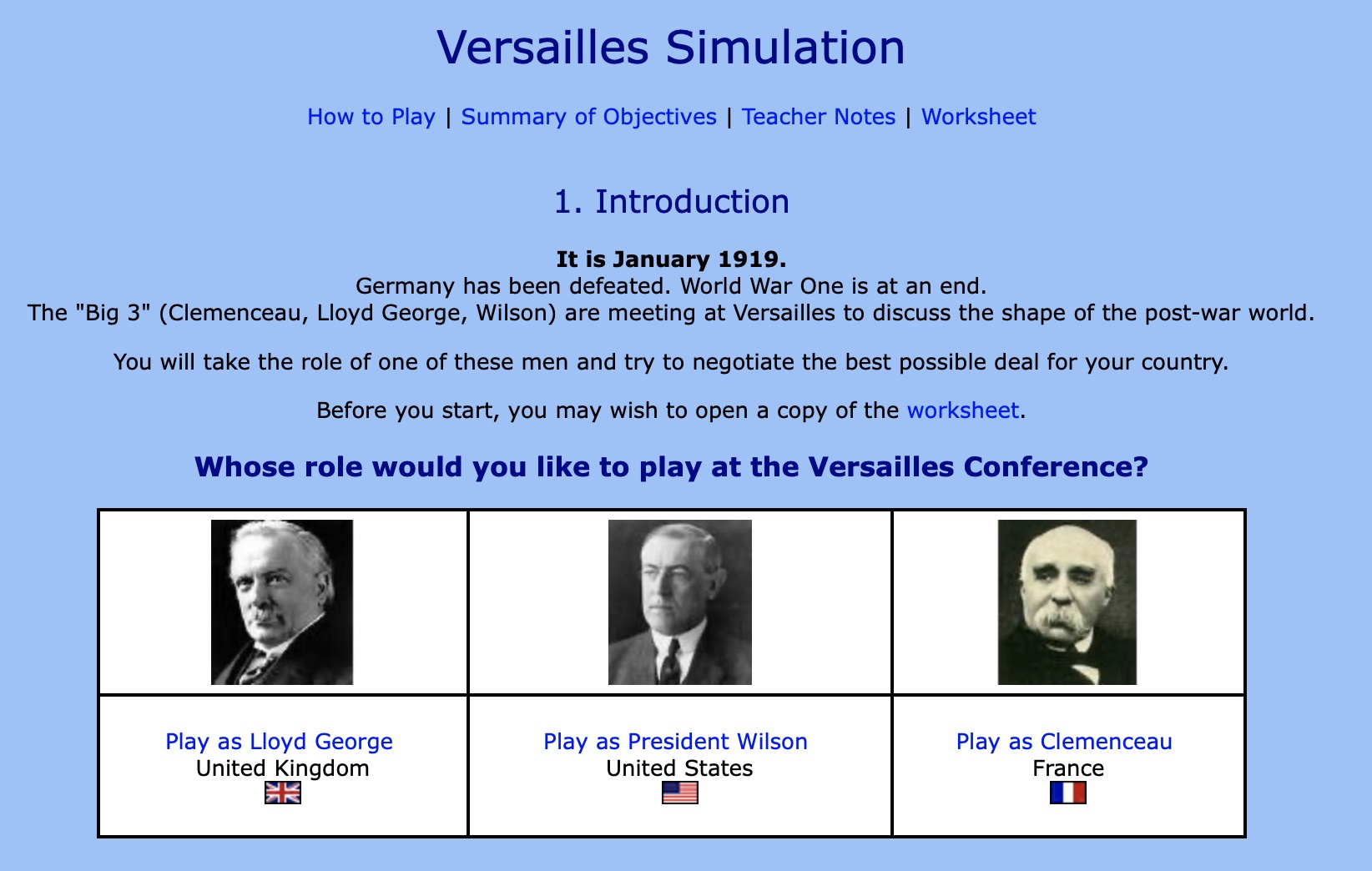 Analyse a series of cartoons by hovering over details and answering exam-style questions. When you have finished, the computer will provide you with a printout comparing your answer to a model answer. A great way to revise and develop sourcework skills.
---


© 1998-2023 Russel Tarr, ActiveHistory.co.uk Limited (Reg. 6111680)
1 Torrin Drive, Shrewsbury, Shropshire, SY3 6AW, England
All rights reserved | Privacy Policy | Contact