World History teaching resources for the high school classroom: lesson plans, worksheets, quizzes and simulation games for KS3, IGCSE, IB and A-Level teachers.
---
All of these freely downloadable printables can be used to make your classroom a visually stimulating environment.

As well as the 40+ posters including those on the right, you may also find the following resources useful for brightening up your classroom. I recommend that you print them off onto A3 and get them laminated!

ActiveHistory also provides hundreds of worksheets, online history simulations, and teacher support materials for the entire 11-18 age range. To subscribe, click here.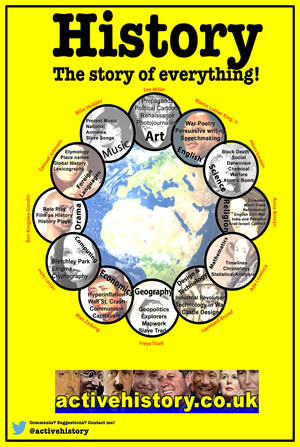 "History: The Story of Everything!"
An A3 poster showing the connection between History and a whole range of other classroom subjects.
Classroom Posters: 10 Celebrity History Graduates
Print these off onto A3, get them laminated and stuck up around the room, then point at them whenever any student asks "What can you do with a history degree?"
Classroom Posters: 15 Key History Questions
Was the Black Death a blessing in disguise? Was Victoria's Empire racist? - 15 key questions, with illustrations, to put up around the classroom.
Classroom Posters: 20 History Quotes
"Study History, Study History! In History lies all the secrets of statecraft!" - plus 19 more motivational quotes about the noble subject.
Classroom Posters: 27 Key Dates from the 20th Century in Pictures
From the first powered flight at Kitty Hawk, through to Boris Yeltsin making a fool of himself after too much vodka: 27 posters highlighting key events caught on the camera in the 20th Century.
Classroom Display: 24 Key Terms for IB/A-Level History | Classroom Display: 40 Key Terms for KS3 History
I print these off onto A3, laminate them and then cut them up to display all around the classroom.

Classroom Display: 37 Topics studied in class
These posters (click on each for a larger version!) are designed to be printed, laminated and displayed outside your classroom so that passers-by can get a flavour of what's being studied in your history classroom. They can be changed at appropriate points and they are a great way of highlighting the great topics that your students get to study.
Student bookmark: Vocabulary for essay writing
Another great resource to print off, laminate, cut out and give to students to help develop their historical vocabulary:


Historically-themed bookmarks for rewards
Twenty historically-themed bookmarks which I give out as rewards for impressive work: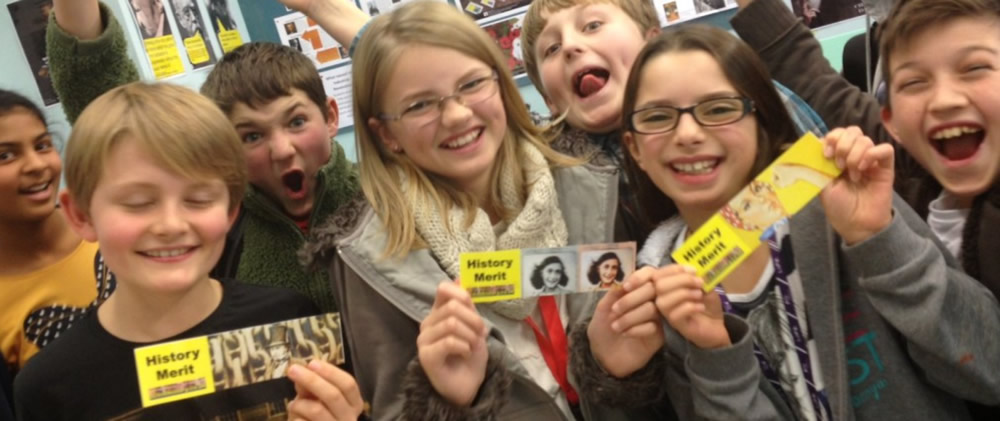 For more display ideas for the history classroom, check out these blogposts at Tarr's Toolbox!
---


© 1998-2023 Russel Tarr, ActiveHistory.co.uk Limited (Reg. 6111680)
1 Torrin Drive, Shrewsbury, Shropshire, SY3 6AW, England
All rights reserved | Privacy Policy | Contact