IB History: ActiveHistory
An ActiveHistory subscription provides everything you need to construct and deliver a two-year IBDP History course from start to finish using the ActiveHistory IB History Hub.
---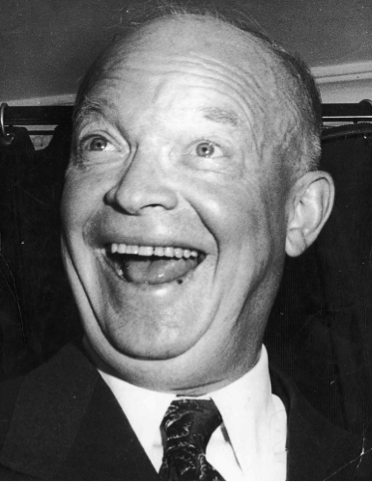 President Dwight ("Ike") Eisenhower was the experienced World War Two general who had led the Allied forces during the D-Day Landings. The Republicans, led by Eisenhower, captured the White House in 1953 after they claimed that the Truman administration had been "soft on Communism" and after stating that they were determined to turn the tide against the "Red menace." Eisenhower's vice president, Richard Nixon, had spoken of "twenty years of treason" as Presidents had appeased the USSR.
Eisenhower was much keener to pursue "rollback" rather than mere "containment". Eisenhower's secretary of state, John Foster Dulles, had pledged that Republicans would "roll back the Iron Curtain in Eastern Europe."
The essence of this 'New Look' for foreign policy was to threaten 'massive retaliation' (in the form of atomic bombs) against any attack upon US interests. This retaliation would take place "instantly, by means and at places of our choosing" (Dulles). He felt the strategy would provide "more basic security at less cost". The goal was to discourage the Soviets and Chinese from making aggressive moves in Europe or Asia, while saving the US from having to commit large, expensive armies to posts around the world. In this view of the USSR as a regime which only understood force, Eisenhower was building on the views of the Kennan Telegram, NSC-68 and, to be fair, President Truman - whom he shared more in common with than perhaps he cared to admit.
---
Scheme of Work
Introduction to Eisenhower and the "New Look" National Security Policy
"Using the information provided here, and your existing knowledge of Truman's foreign policy, to answer this question: In what ways did Eisenhower's 'New Look' differ from the foreign policy of President Truman?"
---
Part 1: Eisenhower's Policy Outside of the Americas
Investigation: To what extent do you agree that Eisenhower's foreign policy was neither new nor successful?
Contained in this document are seven key policy areas. Your teacher will divide the class into two teams.
a. Working alone, read through the first policy area carefully then decide how 'new' and 'successful' it was. Explain your answer ready for discussion. Add what you consider to be the most appropriate image underneath it, and provide a caption.
b. When you have completed the other policy areas, compare your findings with other people in the group to reach an agreement.
c. Each team should separately complete a version of this matrix to serve as the basis of our essay plan.
d. The class can finally compare the two grids and talk through any disagreements of opinion.
For a more competitive and engaging approach, you might instead arrange this lesson in the form of a game of 'Interpretation Battleships!' - details can be found on "Tarr's Toolbox".

The Suez Crisis and the Middle East from Eisenhower's Perspective - Conclusions
NOTE: Comprehensive resources and activities relating to the Suez Crisis are provided in a dedicated section of ActiveHistory here.
This document should merely be used to conclude this topic of study.
Eisenhower and the "New Look": Video Worksheet
"Complete this worksheet as you watch the 48-minute online video. Decide whether you wish to adjust your positionining of the key policies we have so far considered, or add further ones (e.g. about the meetings with Khrushchev)".
---
Part 2: Truman and Eisenhower's Policy in Latin America
Truman's Policy in Latin America
Using the information provided, and a range of recommended weblinks for extra research, students answer the following questions:
1. What were the main features of Truman's policy towards in Latin America?
2. To what extent was Truman's policy in Latin America the same as his policy elsewhere in the world?
3. How successfully did Truman achieve his objectives in Latin America?
Eisenhower's Policy in Latin America: Do YOU like Ike?! (decision-making exercise)
"In this exercise you will form your own judgement about how well Eisenhower handled relations with Latin America.
Your teacher will guide you through each issue using an online multimedia presentation based at ActiveHistory.
After your teacher tells you about the first issue (and you have made notes in the second column), split 100% between each of the three options to reflect what you think Eisenhower should have done. You will then be told what really happened.
Discuss whether you think Ike did the right thing. Record comments in the final column. Repeat for the other rows."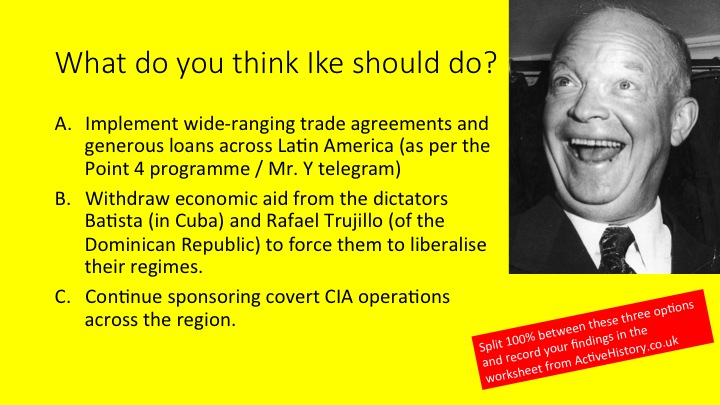 Multimedia Presentation: Do YOU like Ike?
This is the multimedia presentation to be used by the teacher when delivering the 'Do YOU like Ike?!' activity outlined above.
American Foreign Policy in Latin America, 1945-60: Conclusions
Students draw some overall conclusions about the how 'new' and how 'successful' Eisenhower's policies in Latin America were. They should then be set a timed essay in examination conditions on one of the following themes:
Discuss the consequences for the region of Eisenhower's national security policy.
Examine the features of Eisenhower's "New Look" foreign policy and evaluate its impact on the region of the Americas.
In what ways, and with what results, did the Cold War influence relations between Latin America with the United States in the period 1945 to 1957?
"The containment policy of the United States had a negative impact on Latin America". To what extent do you agree with this statement?
With reference to specific examples, analyse the relations between the United States and Latin America in at least two Latin American countries after 1945.
Analyse the relations between the United States and one country in Latin America, between 1945 and 1965.
Model Essay by Russel Tarr: In what ways, and with what results, did the Cold War influence relations between Latin America with the United States in the period 1945 to 1957? (note: teacher password required)
An essay written in timed conditions and then shared with my own students.
---


© 1998-2023 Russel Tarr, ActiveHistory.co.uk Limited (Reg. 6111680)
1 Torrin Drive, Shrewsbury, Shropshire, SY3 6AW, England
All rights reserved | Privacy Policy | Contact