IB History: ActiveHistory
An ActiveHistory subscription provides everything you need to construct and deliver a two-year IBDP History course from start to finish using the ActiveHistory IB History Hub.
---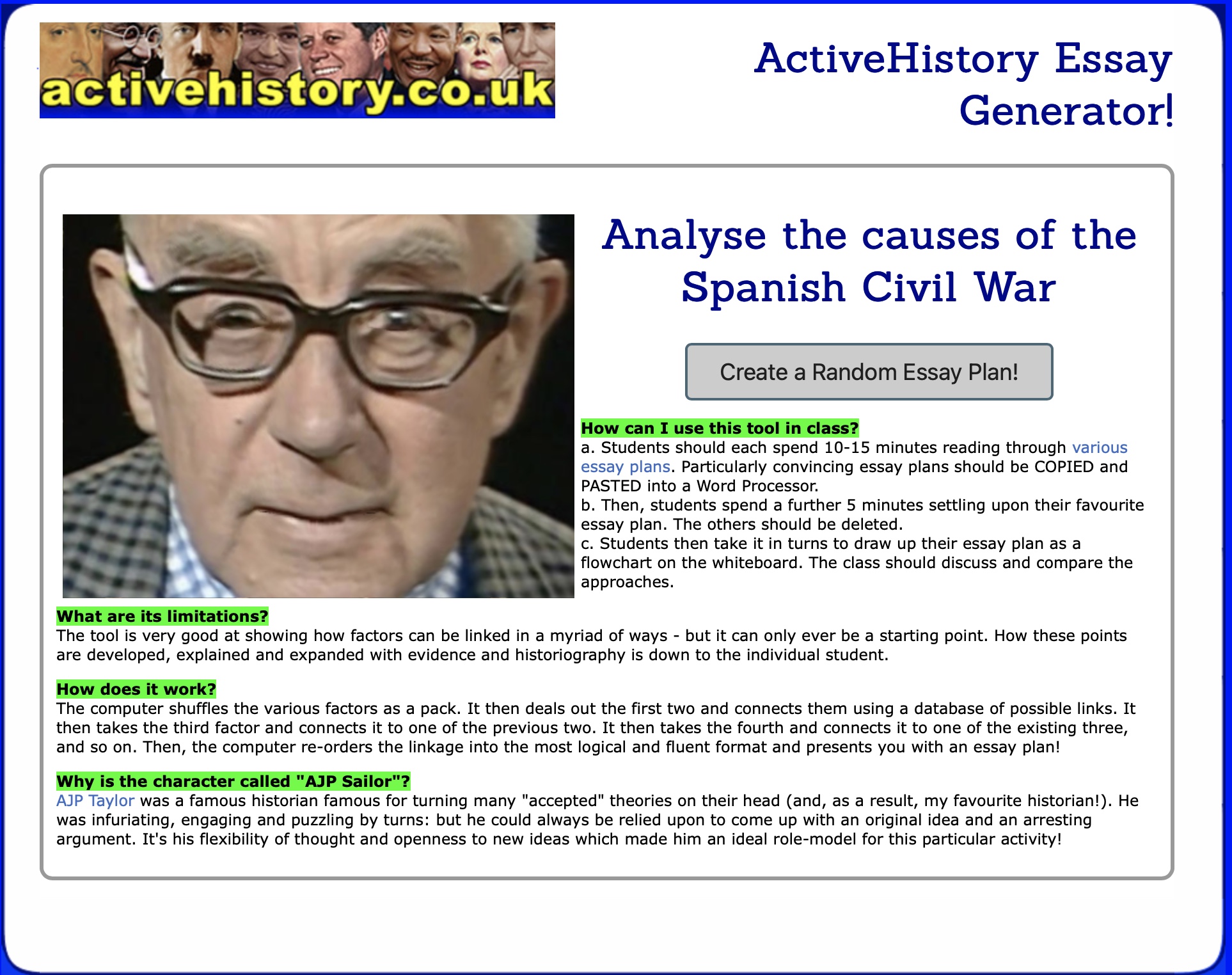 This worksheet helps students understand the significance of the Spanish Civil War. It should be used in conjunction with this PowerPoint Presentation.
Students complete a series of notes "against the clock" using this interactive newsfeed activity which gives them a detailed account of the main events in Spanish History leading up to the outbreak of the Civil War in 1936. They then use their completed notes to complete this timeline worksheet, organising their ideas into those which promoted stability, and those which promoted instability. Finally, events are colour coded according to whether they are social, religious, military, regional or political in nature. Follow-up questions help students to reach some provisional conclusions.
Designed to test and consolidate knowledge from the previous two activities.
Students are provided with essential information about the main locations relating to the economic, military, political, regional and social issues within Spain in the years immediately prior to the Spanish Civil War. This information is used to construct a labelled map or a Google Earth Tour designed to help students visually understand the issues.
Students have to read each key event, then decide whether it represents success or failure and in what particular policy area. The computer gives a score at the end, writes up the information in the correct order, and provides follow-up questions.
An interactive computer game to test factual knowledge. The first student to finish should be given 20 points; the second student 18; and so on. I build up a "Fling the Teacher Leaderboard" over the whole course to build up a bit of competition...!
A worksheet in which students are given detailed information and then asked to analyse it in various ways.
A structured worksheet based around a classic video documentary about the Spanish Civil War, which is available online.
A structured worksheet based around a classic video documentary about the Spanish Civil War, which is available online.
Students use this worksheet to summarise - and then crucially to connect - the various factors. They are then given advice on how to structure an essay.
A selection of sources and questions designed to round off the unit.
For instructions on how to play this game, click here.
Students paste their essay into this interface and get a score based on how many keywords they have included. Excellent for ensuring topic coverage at first-draft phase.
A sample essay by RJ Tarr of www.activehistory.co.uk.
Professor AJP Sailor takes 5 factors and connects them together in endless combinations to help students consider the Origins of Spanish Civil War and how to link factors in essays.
---


© 1998-2023 Russel Tarr, ActiveHistory.co.uk Limited (Reg. 6111680)
1 Torrin Drive, Shrewsbury, Shropshire, SY3 6AW, England
All rights reserved | Privacy Policy | Contact