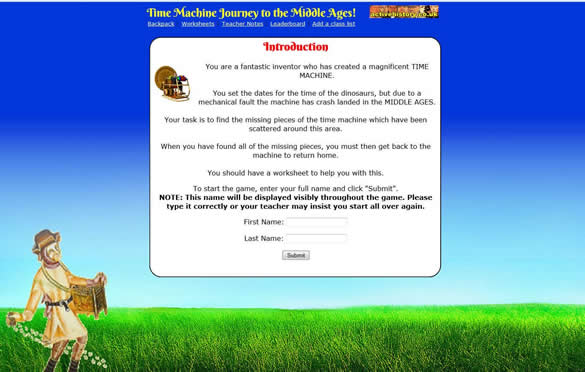 This unit of study is built around the Time Machine Journey to the Middle Ages (below). The game enables students to compare and contrast various people and places in the Medieval town and village to reach a judgement on the question "Was Life Good or Bad in the Middle Ages?".
Time Machine journey to the Middle Ages! [Interactive]
Students should start the investigation by playing this decision-making game for one lesson. They need to find the missing pieces of their time machine, which have been scattered all over the town and village (there are over 50 locations!). As they play, they should fill in the map worksheet and the teacher should, if possible, have some medieval music playing over some speakers for added effect. Offer a prize for the first person to complete the mission! As a homework, students should then convert their basic map into an artistic representation [example 1 | example 2]. There are a range of different worksheets to accompany the simulation, and you can even input your own class list so that students can star in their own adventure!
Life in the Medieval Town and Village: Key Words
Students then play the Time Machine Game a second time to complete this key word list. Students should be provided with a paper-based factual test based on this list in a subsequent lesson; the interactive quizzes below could be used as an alternative or as revision materials.
The Peasants' Year: Matching Exercise [Interactive]
A good "stand alone" lesson. Students copy and paste the pictures into the correct spots in the peasants' calendar. Follow-up questions included.
KeyWord Challenge: Medieval Society [Interactive]
If you are unfamiliar with the format of the game, click here for instructions. If you wish, provide students with this blank keyword list to complete.
Revision / End of Unit Quizzes
Other quizzes to help students revise for a factual test based on the key word list [Interactive]:

Life in the Medieval Town and Village: Was it Good or Bad?
Next, students are divided into two groups. The "Good" group approach their argument by producing a tourist brochure highlighting all of the great jobs, places and people in the town and the village. The "Bad" group instead write an angry letter of complaint outlining all of the terrible people, jobs and places which they were subjected to when they visited the Middle Ages. Part-way through this lesson unit you may wish to show your students some images from the Luttrell Psalter and discuss whether each suggests life was good or bad. Encourage students to use illustrations in their assignment. Here's an example of one of the "Complaint Letters" produced by my students:

Consolidation: A Newspaper Interview with the intrepid Time Traveller!
The unit is rounded off when each student produces a newspaper interview covering both the best and the worst parts of life in both the town and the village.
---


© 1998-2022 Russel Tarr, ActiveHistory.co.uk Limited (Reg. 6111680)
High Park Lodge, Edstaston Wem, Shropshire, England, SY4 5RD. Telephone/Fax: 01939 233909
All rights reserved | Privacy Policy | Contact