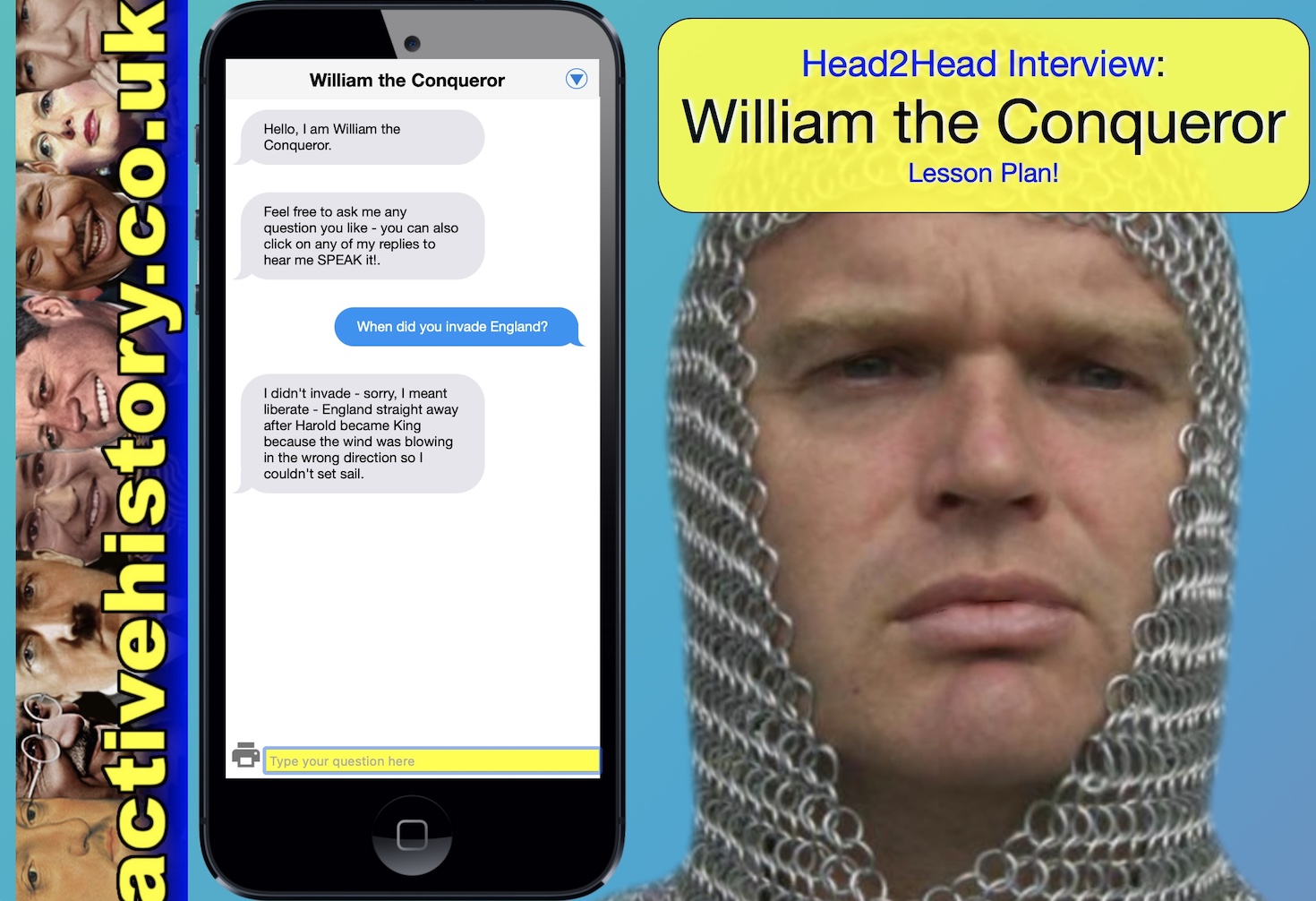 What sort of a man was William the Conqueror? [Interactive]
A Head2Head interview with the Norman hero! Complete with a range of worksheets and lesson plans and a teacher sheet. You can ask William any question you like, and he answers by means of artificial intelligence calling upon a massive database of answers. A completely original way of learning about the Norman Conquest!
Hereward the Wake Cut 'n' Paste Activity
Use Word, Publisher and the net to reconstruct the story of this Saxon resistance fighter and produce their own report.
The Feudal System
Students have to construct their own diagram of the feudal system based on examples in this powerpoint presentation. A sample piece of work from a former student is available here.
The Domesday Book [1]: What was it?
An introductory worksheet to the Domesday Book - what it was, what it asked, why it was produced.
The Domesday Book [2]: How useful is it?
This second worksheet encourages students to start thinking about "usefulness" as a sourcework concept by comparing the strengths and weaknesses of this source to that of the Bayeux Tapestry and (if they have studied it) the Luttrell Psalter.
William the Conqueror: Who and When? [Interactive]
Students can now return to the Head2Head interview to complete one or both of the following worksheets:
Timeline of Events in William's Reign
Key Characters in William's Reign
End of Topic Debate: Was William a Hero or a Villain?
The class is divided into two groups to debate the key question in the format of a courtroom trial.
End of Unit Test: Structured Question
Students are presented with a variety of possible test questions to revise from. The teacher then chooses one of these questions at random in a subsequent lesson as a timed exercise.
The Gruesome end of William the Conqueror
Sourcework and "code-breaking" activity
Who Killed King William Rufus? [Interactive]
Analyse and categorise the evidence to solve this medieval mystery!

---


© 1998-2022 Russel Tarr, ActiveHistory.co.uk Limited (Reg. 6111680)
High Park Lodge, Edstaston Wem, Shropshire, England, SY4 5RD. Telephone/Fax: 01939 233909
All rights reserved | Privacy Policy | Contact