The Mughal Empire was the wealthiest and most powerful Muslim empire of the early modern period.
Its Emperor ruled over 100 million people at a time when Elizabeth I of England ruled just 3 million.
Few other dynasties have left behind such a rich legacy in art, science and religion. Even today, the Prime Minister of India addresses his people from the home of the Mughal Emperors - the Red Fort in Delhi.
In this unit, students will learn about the first six Mughal Emperors and form their own judgement on which emperors deserve to be regarded as truly "great".
---
This presentation guides students through the history of the region from the era of the British Raj through to its partition and subequent history. This helps establish the relevance of a study of the Mughals, who were largely responsible for the religious variations in the region.
This worksheet should be provided to students to fill in as the teacher delivers the introductory presentation (above).
Students complete a gap-fill exercise providing an overview of the Mughal Empire, and then examine different maps comparing the Mughal Empire to other Islamic Empires of the period.
Working alone or with a partner, students decide - based on the information from a series of maps - which of the emperors deserves to be regarded as the greatest, and why. They then rank the emperors from 5 points (best) to 0 points (worst). This format will be followed in subsequent lessons so that students can build up an overall "leaderboard".
Each emperor adopted a special name upon coming to power (Jehangir's real name, for example, was Nur-ud-din Muhammad Salim!). "Rank the following names from your most favourite to your least favourite. As for the maps, give these scores of 5, 4, 3, 2, 1 and 0. Your teacher will then tell you which name corresponds to which emperor. Put the scores for each name in the appropriate cell of the second column".
A number of portraits are chopped up and spread around the room. Students are placed in groups to reconstruct these in various stages, with a number of stimulating tasks to complete as they do so. Once the process is finished and each image has been thoroughly analysed, students provide a written answer to the question "What do portraits of the emperors tell us about Mughal India?".
This simulation provides a detailed overview of the lives and careers of the first six Mughal Emperors. Students give their opinion on how they hope the emperors will react in various circumstances, and form their own judgement on which emperors deserve to be regarded as truly "great". Factual questions are posed throughout the simulation and teachers can view the progress of the class using a 'leaderboard' feature.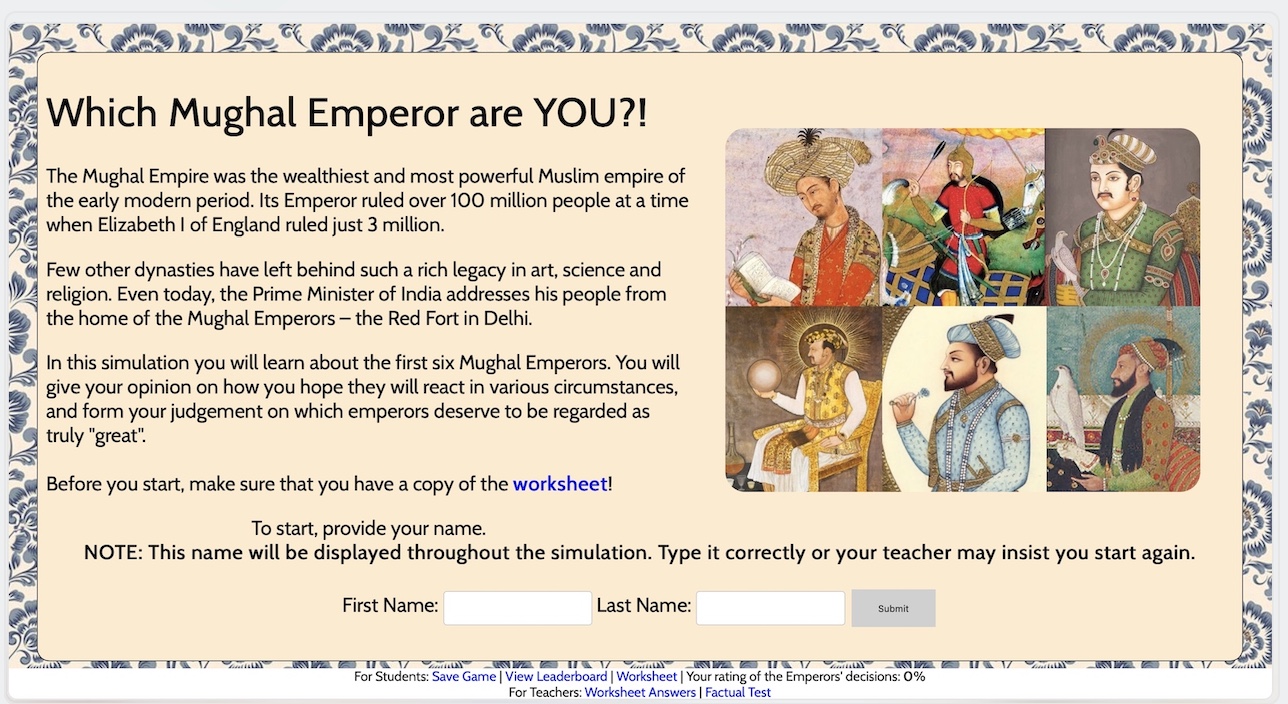 ---
Thirty questions to test knowledge and understanding of this topic.
Revision Quizzes

---


© 1998-2022 Russel Tarr, ActiveHistory.co.uk Limited (Reg. 6111680)
High Park Lodge, Edstaston Wem, Shropshire, England, SY4 5RD. Telephone/Fax: 01939 233909
All rights reserved | Privacy Policy | Contact