C. Is "Objective" History possible or even desirable?
▪ On this basis perhaps we should aim for objective history; to tell it as it really was; to limit ourselves to only those things which can be proven.
▪ However, whilst some "facts" are beyond dispute, this does nothing to challenge the view that history is essentially a fiction.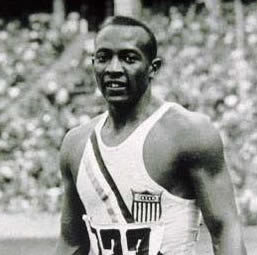 Firstly, such facts are dead and meaningless until the historian helps us to read something into them . For example, no-one argues Hitler was born in 1889; but this only becomes of any relevance when a historian uses this to argue (for example) that Nazism sprung from late 19th Century Austrian nationalism [more]
Secondly, such facts may be the truth, but not the whole truth. For example, Hitler refused to shake hands with the black American athlete Jesse Owens (pictured), who won 8 gold medals at the 1936 Olympics. However, it is also true that Hitler refused to shake anyone's hand after the first day (he got into trouble for only greeting German athletes) [more]
▪ In conclusion, factual history is impossible; but it is also utterly undesirable. The point of history is not to collect facts, but to deal with interpretations, lessons, morals, values; to engage in a dialogue with the past with one eye on the present. Historians encourages individuals to look outwards at the world, and then inwards to form mature opinions and judgements, rather than wallow in the ignorance which produces prejudices, bigotry and bias.
---


© 1998-2022 Russel Tarr, ActiveHistory.co.uk Limited (Reg. 6111680)
High Park Lodge, Edstaston Wem, Shropshire, England, SY4 5RD. Telephone/Fax: 01939 233909
All rights reserved | Privacy Policy | Contact